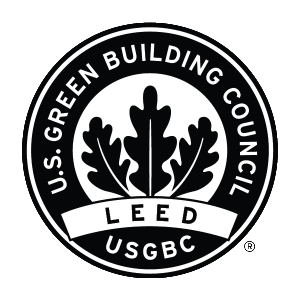 LEED® certified buildings save money and resources and have a positive impact on the health of occupants, while promoting renewable clean energy.
Utilizing SoundGuard™ products on your project will assure the most quality steel framing materials are used while helping your project attain LEED® Certification. The following information provides possible attainable credits based on the most current LEED® certification program.
SCAFCO Steel Applicable Credit Contributions:
MRc2 – Construction Waste Management: SCAFCO uses only certified prime steel for all steel framing products and components. SCAFCO Steel Studs and accessories are 100% recyclable and can contribute to Construction Waste Management Credits (MRc2).
MRc4 – Recycled Content: SCAFCO's finished steel products contain an average of a combined post and pre consumer recycled content of 34.9% and can contribute to Recycled Content Credits (MRc4).
MRc5 – Regional Materials: SCAFCO's numerous source locations and manufacturing plants in the western United States increase the possibility of qualifying for the Regional Materials Credits (MRc5). The number of attainable credits in this category is dependent on the distance of the project location to nearest SCAFCO manufacturing facility.
SoundGuard™ Silent Framing System Applicable Credit Contributions:
IEQc9 – Innovation: Enhanced Acoustical Performance: Projects that fall in the Schools Category can qualify for an Indoor Environmental Quality Credit for Enhanced Acoustical Performance (IEQc9). Test results for the SoundGuard™ Silent Framing System using the Supreme Framing System products have confirmed high levels of sound transmission reduction, with STC ratings as high as 60.
IDc1 – Innovation in Design: Utilizing SoundGuard™ and the Supreme Framing System for your project can significantly reduce the quantifiable amount of material used, resulting in lower cost as well as contributing to the Innovation in Design Credit (IDc1).