Resilient Channel Sandwiching Major Acoustic Concerns: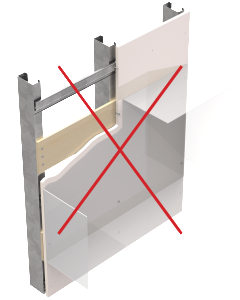 Resilient Channel is often times used in conjunction with plywood shear panels or with backing boards and materials for the installation of cabinets, shelves etc. In this process the plywood or other materials are attached to the wall studs in parallel with the RC Channel, and then gypsum wall board (GWB) is attached to the face of the RC Channel and plywood. This type of construction is known as RC 'Sandwich' Installation, and is seen as a major construction error.
Backing Creates an Acoustic Short Circuit
RC Channel Is Ineffective
Acousticians Agree that it Will Reduce the STC Rating
Will Perform as a Regular Low Grade Acoustical Wall
Veneklasen and Associates is one of the few Consultants in Acoustics that has performed tests on RC 'Sandwich' Installation, and in their 2009 Inter-Noise Article, Quantitative comparisons of resilient channel designs and installation methods, they stated:
This is a catastrophic construction technique from an acoustical perspective, virtually negating the value of the resilient channel over much of the frequency range.

…Of the common installation errors presented, installing the resilient channel over a solid surface ("sandwiched" resilient channel) is by far the most egregious, resulting in up to 20 dB reduction in performance."

Veneklasen Associates (2009)
All of this leads us to the question that has remained for quite some time:
"How do we construct a wall that can allow for the attachments of cabinets and shelving with backing panels, which will not degrade the acoustical performance of the wall assembly?"
The answer to that question is the SoundGuard™ Silent Framing System. SoundGuard has been acoustically tested and performs with similar acoustical STC ranges as Resilient Channel. The standard framing components of the design allow for plywood or other panel products to be attached just as they would in a standard steel framed wall configuration without degrading the sound quality of the wall.
SoundGuard, The Silent Framing Solution, an efficient solution incorporating chase wall configurations, high STC performance, and standard framing techniques.