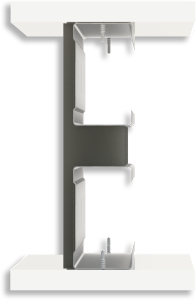 As communities become more populated and the increasing amount of airborne noises rise, there is a real need for reducing the noise levels in both business and residential buildings. There are a few traditional sound reduction methods currently available, however, most of these methods are expensive and require extra labor and wasteful square footage.
SCAFCO Steel Stud Company now offers a revolutionary noise barrier product called SoundGuard™ Framing System. SoundGuard™ has many advantages over all other methods. SoundGuard™ eliminates sound by reducing the vibration transferred through the assembly. The new system is also easily installed and is much more cost effective than traditional sound barrier construction methods.
Product Application
The SoundGuard™ Silent Steel Framing System is a patented interior framing system specifically designed to easily construct partition walls with high STC ratings. The SoundGuard™ system was created to save labor on construction and accomplishes excellent sound rating numbers.
The control of noise and vibration is essential for health, safety, environment, and quality. SoundGuard™ Framing System is expertly designed to provide a cost effective and practical solution to noise control. SCAFCO manufactures a complete line of acoustical framing studs and track to meet noise requirements and to help solve many noise problems. SoundGuard™ studs and track are quickly assembled to provide complete or partial walls for residential condos, apartments, conference rooms, equipment rooms, hospitals, and more.
Features and Benefits
Labor saving from traditional construction of two separate walls
Increased STC ratings resulting from sound dampening material
Achieves 1-hour partition fire rating in accordance with ASTM E119
Eliminate layers of GWB while maintaining STC Ratings
Compatible Slotted Track
Sound Comparison Example
Traditional Chase Wall vs. SoundGuard™ STC Ratings
| Nomenclature | Wall Size | Application | STC Rating |
| --- | --- | --- | --- |
| GA WP 5017 | 6" Wall | 2 – 2 1/2" Studs, Single GWB each side, Glass Fiber Insulation | 50-54 |
| 400SG-30EQD | 4" Wall | 2 – 1 5/8" Studs, Single GWB each side, R-13 Insulation | 52 |
Track Connections
Cost Benefit Example
26 Floors Containing Condo Units
10 Average Number of Units per Floor
260 Total Number of Units
284,815 Total Square Footage of Condo Space
18,200 Total Lineal Footage of Sound Wall
Traditional Double Stud Sound Wall
Two each 2 1/2" studs with 1" air gap (6" total wall width)
6" wall width  x  18,200 lineal footage of wall  =  9,100 sq.ft.
SoundGuard™ Sound Wall
One each 4" SoundGuard stud (4" total wall width)
4" wall width  x  18,200 lineal footage of wall  =  6,006 sq.ft.
Savings of Square Footage
Traditional 9,100 sq.ft. – 6,006 sq.ft. SoundGuard™ = 3,094 sq.ft.
Total Dollar Savings to Owner
3,094 sq.ft.  x  $760.00  =  $2,351,440.00